In Occupation's Shadow
Conditions
New Units

| Victory | Defeat |
| --- | --- |
| Protect Natalie for 7 turns | Lyn or Natalie dies |
| Item | Source |
| --- | --- |
| | Dropped by enemy Brigand |
There are no armories or shops in this chapter.
Before the player phase for turns 3 to 7: 1 Brigand spawns in the southwestern corner, 1 Mercenary spawns in the northeastern corner (Appendix 1).
The Brigand reinforcements have a C rank in Swords.

Defeating the boss does not stop reinforcements from spawning.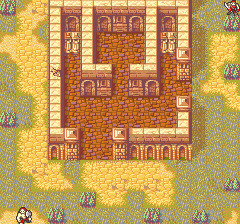 Appendix 1: Brigand and Mercenary reinforcements